home
After a good ten-year run, we have closed our Front Street gallery in Cobden to refocus on our own artistic pursuits. Thanks to all who visited over the years, and to all the artists & crafts-people who shared their talents with us! Feel free to keep up with us via Facebook.
anthill productions is home to the photography of rare images' Bob Hageman and the stained-glass work of firelight studios' Linda Austin. For well over twenty years, Linda and Bob have been making and displaying their unique artworks throughout the Midwest, and they are now for the first time making them available to a broader audience.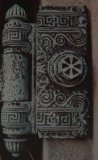 rare images specializes in color photography that seizes on the sometimes superficially mundane details of our daily visual experience and puts them before us in a new way, in a way that transforms them from anonymous background to vivid, attention-grabbing foreground. Hageman demonstrates a keen sense for finding art in the neglected icons of our age: crypts, rusted farm-machinery, an abandoned prairie farm-house. These never-nostalgic images place us squarely in the present of the past, and invite us to see in the passage of time a transformative unfolding of color and shape, a process, essentially, of an evolution into art.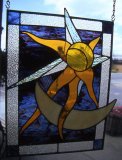 firelight studios features a wide range of original stained-glass work, including decorative panels, transoms, keepsake boxes and reliquaries. Never one to pull a design from a book, Austin works closely with her clients to develop a sense for their artistic preferences and the context in which her work will be displayed, so that the finished work relates beautifully both to the space it inhabits and its owners' sense of style. Clients are welcome to choose from among her available original designs, or to work with her to develop their own unique pieces. Her flexibility as an artist is such that she is quite content either following very specific design specifications, or a careful understanding of a client's aesthetic sensibilities.